Welcome to Montreal second for potential future Canadien Shane Wright
Breadcrumb Trail Links
Sports
NHL
Montreal Canadiens
Hockey Inside Out
Hockey
"You see the water, the bridge and all that," potential No. 1 NHL draft pick says. "It's tough not to picture yourself here."
Author of the article:
Stu Cowan  •  Montreal Gazette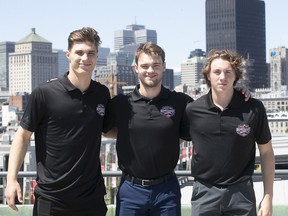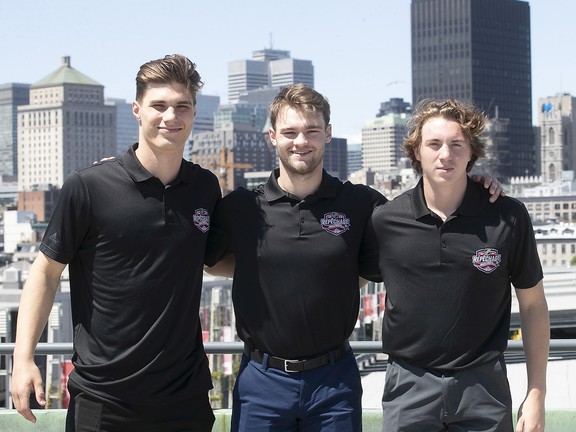 Potential top picks for the coming NHL draft, stand in front of the city's skyline on Wednesday July 6, 2022. Juraj Slafkovsky, from left, Shane Wright, Logan Cooley. Photo by Pierre Obendrauf /Montreal Gazette
Article content
Shane Wright's arrival in Montreal for Thursday's NHL Draft (7 p.m., SN, TVA Sports) got delayed because of the police.
Advertisement 2
This advertisement has not loaded yet, but your article continues below.
Article content
Wright's father, Simon, was driving the family SUV and had just crossed the Ontario/Quebec border on Tuesday when a police car started to follow him.
By clicking on the sign up button you consent to receive the above newsletter from Postmedia Network Inc. You may unsubscribe any time by clicking on the unsubscribe link at the bottom of our emails. Postmedia Network Inc. | 365 Bloor Street East, Toronto, Ontario, M4W 3L4 | 416-383-2300
Thanks for signing up!
Article content
"We were probably five minutes over the border into Quebec and we saw a cop on the side of the road," Wright said Wednesday morning when the top draft prospects met with the media at the Montreal Science Centre in the Old Port. "My dad's driving along and nothing goes about. And then he sees (the police car) drive past him, the same cop, and then (the police car) kind of pulled off to the side like he was trying to look at the car. And then he pulled in behind us and turned his lights on and pulled us over.
"He walked up to the window and he said: 'We're looking for a car that was involved in an accident earlier today that matches the description of yours. Just making sure it's all good,'" Wright added. "We're like: 'Yeah, we're all good.' Then he kind of looked over to me and said: 'Are you guys going to the draft?' We're like: 'Yeah, we're going to the draft.'
Advertisement 3
This advertisement has not loaded yet, but your article continues below.
Article content
The policeman took the driver's license and registration from Wright's father and went back to his car to check them out.
"It was funny," Wright said. "My dad saw in the rear-view window the officer had his phone out as he was walking up. He said: 'I'm sorry guys, I have to take a picture. I'm a huge Montreal fan, Shane, I have to take a picture.' So I got out of the car and took a picture with the officer. Pretty funny story, for sure."
A memorable Welcome to Montreal moment.
There could be an even bigger one Thursday night if the Canadiens end up selecting Wright with the No. 1 overall pick at the draft. The 6-foot, 199-pound centre from Burlington, Ont., is the top-rated North American prospect by NHL Central Scouting after posting 32-62-94 totals in 63 games this season with the OHL's Kingston Frontenacs.
Advertisement 4
This advertisement has not loaded yet, but your article continues below.
Article content
Teenage players don't get to this point in their hockey career without help from their family members and Wright is no exception. His father is an account manager in the business world and his mother, Tanya, is a high-school teacher.
Advertisement 5
This advertisement has not loaded yet, but your article continues below.
Article content
When asked what's the best advice his father has given him, Wright said: "Don't get complacent. Don't be complacent with yourself, don't be complacent with your skills or where your game's at. Always push yourself, always strive to be the best player you can be. That's something that he told me when I was young and that's always kind of stuck with me throughout the years."
Wright was granted exceptional-player status to play in the OHL a year early at age 15 and posted 39-27-66 totals in 58 games with Kingston during the 2019-20 season. Last year, the OHL season was wiped out because of COVID-19, so Wright didn't play.
Wright has been under a very bright spotlight since becoming one of only five players ever granted exceptional-player status in the OHL, joining John Tavares, Aaron Ekblad, Connor McDavid and Sean Day.
Advertisement 6
This advertisement has not loaded yet, but your article continues below.
Article content
With so much focus on Wright this season leading up to the NHL Draft and with his game being picked apart, his father decided to delete his Twitter account, telling Joshua Clipperton of The Canadian Press: "It's out of control."
His mother told Clipperton she wasn't prepared for the scrutiny of her son this season.
"If every kid was scouted to the same degree as Shane, you could pick apart any player," she told Clipperton. "That was a real eye-opener."
Photo I took this morning of Juraj Slafkovsky and Shane Wright at media event in Old Montreal for top prospects ahead of tomorrow night's NHL Draft. One of them is likely to be selected by #Habs with the No. 1 overall pick #HabsIO pic.twitter.com/9EZ9ydXYj7
— Stu Cowan (@StuCowan1) July 6, 2022
Advertisement 7
This advertisement has not loaded yet, but your article continues below.
Article content
This marks only the second time Wright has been in Montreal. He said the first time he visited the city was six or seven years ago when he played in a spring hockey tournament.
On Wednesday morning, Wright visited the Canadiens' practice facility in Brossard along with the other top prospects for a youth clinic.
"That facility is unbelievable," Wright said. "Beautiful facility. I think that the fact that it's just a practice facility is just kind of crazy to me because of the facilities and how nice it all was. I can definitely picture myself being there. Definitely something that I can see myself being there for a long time."
When asked if he can imagine what it would be like to live in Montreal, Wright said: "It's human nature. It's hard not to picture yourself there, hard not to picture this being the city that I'm in potentially in the future and the city that I play hockey in. Just walking around, beautiful city, unreal city.
"You look out the window here and you see the water, the bridge and all that. It's tough not to picture yourself here."
twitter.com/StuCowan1



Canadiens will pick Wright, but will he jump straight to the NHL?




Stu Cowan: There would be a lot for Canadiens to like about Juraj Slafkovsky
Share this article in your social network
Advertisement 1
This advertisement has not loaded yet, but your article continues below.
Comments
Postmedia is committed to maintaining a lively but civil forum for discussion and encourage all readers to share their views on our articles. Comments may take up to an hour for moderation before appearing on the site. We ask you to keep your comments relevant and respectful. We have enabled email notifications—you will now receive an email if you receive a reply to your comment, there is an update to a comment thread you follow or if a user you follow comments. Visit our Community Guidelines for more information and details on how to adjust your email settings.