Snowboarding and eating at Sommet Saint-Sauveur, life is sweet in Quebec
Breadcrumb Trail Links
Other Sports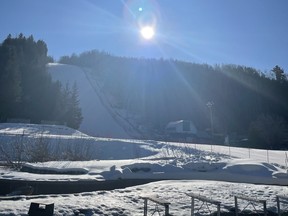 Article content
There's nothing better than combining city life with skiing and that's what I recently enjoyed at Sommet Saint-Sauveur, an easy 40 minutes north of Montreal. The resort is part of an historic area called Les Sommet which features five resorts and includes the first ski lifts in North America and the largest night skiing area in the world.
Advertisement 2
This advertisement has not loaded yet, but your article continues below.
Article content
Driving up to Sommet Saint-Sauveur reminded me of Blue Mountain with huge parking lots, massive acreage and a cool traditional chalet. The runs also reminded me of Blue with easy skiing at the top then good verticals leading down to the chalet.
By clicking on the sign up button you consent to receive the above newsletter from Postmedia Network Inc. You may unsubscribe any time by clicking on the unsubscribe link at the bottom of our emails or any newsletter. Postmedia Network Inc. | 365 Bloor Street East, Toronto, Ontario, M4W 3L4 | 416-383-2300
Thanks for signing up!
Article content
Like an amphitheatre, the patio is enormous and one of the biggest I've ever seen with plenty of tables, high tops, Muskoka chairs and a large fire pit to warm the body on cool days. There's also a traditional and quaint wood chalet with a renovated restaurant, a good-sized cafeteria that features my favourite — spaghetti bolognese.
Article content
I loved the variety of slopes from beginner to expert with eight lifts and 43 trails over 142 acres with the longest run at 1.2km. While skiing, I also saw a number of summertime attractions such as ziplining and a massive water park making Sommet Saint-Sauveur a complete four-season resort.
Advertisement 3
This advertisement has not loaded yet, but your article continues below.
Article content
After my enjoyable day of skiing, I drove two minutes around the corner to Manoir Saint-Sauveur, a first-class hotel with a welcoming wood and stone entrance. Once inside, there's a massive check-in and expansive main floor with cool bars, trendy restaurants and a wonderful breakfast buffet. They also offer an outdoor whirlpool as part of their five-star spa. The rooms are spacious and have a good variety to suit any family size. For dinner, I took a 15-minute walk into downtown Saint Sauveur, which had all the feel and charm of old town Quebec.
We apologize, but this video has failed to load.
Play Video
Narrow streets were lined with locally owned chocolate shops, famous cheese shops, fashion and quaint restaurants including my new favourite spot, Pub Le Saint-Sau on Principale St. It's a traditional pub with a huge square bar which is packed with locals for happy hour. Their burgers are famous along with their interesting take on onion rings. I left Saint Sauveur thinking this is a really cool little town so close to Montreal and perfect for a romantic weekend or family fun.
Advertisement 4
This advertisement has not loaded yet, but your article continues below.
Article content
My next stop was just 40 minutes down the highway to the incredible city of Montreal with all its culture, art, history and tradition. I checked into one of the coolest boutique hotels: The Sens Hotel at 1808 Sherbrooke St West. It's a typical boutique hotel with an understated entrance leading into a welcoming reception area, bar and dining room. They have a doorman to help with luggage and valet parking as there is no parking on the street. The recently renovated rooms are stunning, spacious and well appointed with every luxury amenity you'd want.
The Sens is centrally located, just a few blocks from downtown and the always busy St Catherine St, but I took the Metro, their version of the TTC. All the signs are in French, but locals were more than happy to help with directions. Montreal is known for its famous nightlife but daytime fun can include a drink at one of the many cool establishments such as Atwater Cocktail Club, The Cold Room, the Cloakroom or El Pequeno, the smallest cocktail bar in Canada at 150 sq ft, in old Montreal.
Advertisement 5
This advertisement has not loaded yet, but your article continues below.
Article content
I took the subway to Centre Eaton which has the most unique food court I've ever experienced. Time Out Market is on the top floor and has over 40 booths featuring some of Montreal's finest restaurants. After my sushi lunch, I wandered up historic Saint-Catherine St. with its many shops and attractions including the Ring, an interactive outdoor art exhibit you can walk through.
We apologize, but this video has failed to load.
Play Video
My next journey took me to one of the newest and trendiest areas of Montreal: Place Saint-Henri. It was literally a cool experience at the Riverside's huge patio turned into an igloo called Hiverside. There's an ice bar, ice benches and a DJ to keep you moving. I stayed in the area for dinner at the very popular and trendy Elena, a neighbourhood packed restaurant serving wood fired pizzas with naturally leavened dough and pastas. If you haven't had enough, take a seat in La Grande Roue de Montreal for a 60m high, panoramic view of Old Montreal, downtown and the mountains.
Advertisement 6
This advertisement has not loaded yet, but your article continues below.
Article content
Montreal is also getting ready to welcome the world with Montreal En Lumiere from Feb 16 to March 5th. It's one of the largest winter festivals in the world combing performing arts, food, free outdoor family activities and much more with Nuit Blanche.
My 36 hours of Quebec life, with skiing at Sommet Saint Sauveur then the sights and sounds of Montreal were all unforgettable. I will return again sometime soon.



CROUTER: Horseshoe Valley keeps improving




Boler Mountain's new snow machine is a game-changer … Mount Saint Louis Moonstone is open for business
Check out our sports section for the latest news and analysis. Care for a wager? Head to our sports betting section for news and odds.
Share this article in your social network
Advertisement 1
This advertisement has not loaded yet, but your article continues below.
Comments
Postmedia is committed to maintaining a lively but civil forum for discussion and encourage all readers to share their views on our articles. Comments may take up to an hour for moderation before appearing on the site. We ask you to keep your comments relevant and respectful. We have enabled email notifications—you will now receive an email if you receive a reply to your comment, there is an update to a comment thread you follow or if a user you follow comments. Visit our Community Guidelines for more information and details on how to adjust your email settings.