Parc Saidye-Bronfman honours certainly one of Montreal's nice philanthropists
Article content
Stephen Bronfman said it's a fitting tribute to his grandmother to have a new park in Côte-des-Neiges named after her.
Article content
"We always had the Saidye Bronfman Centre and she used to refer to it as the apple of her eye," Bronfman said Thursday morning at the park's official opening. "Here we are in this park which is part of a big community centre, and the Saidye Bronfman Centre at the time was part of a community centre, so it's sort of a continuation of her legacy. And it's great to be here with my aunt Phyllis (Lambert, renowned architect), who is going to speak today. It's just great to have continued support and continued recognition of all the family's done for the city.
Article content
"This is going to be used by all the people in the borough for Zumba classes and cooking classes and the like. And we're in the middle of this real gentrified part of the city that was really built up over the last five to seven years. There wasn't much here. There's going to be an elementary school right behind. So this is providing a lovely green space and community centre for a whole new part of the city, and I think that's great."
Article content
Montreal Mayor Valérie Plante and Côte-des-Neiges—Notre-Dame-de-Grâce borough mayor Gracia Kasoki Katahwa were also on hand for the opening of Parc Saidye-Bronfman, located at the corner of Victoria Ave. and Buchan St. It is part of the conversion of the Namur-Jean Talon industrial zone into the residential zone known as the Triangle, and used to be a parking lot.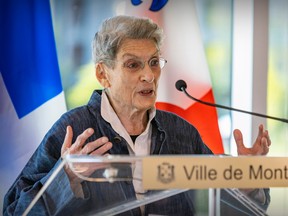 Phyllis Lambert speaks at the inauguration of Parc Saidye-Bronfman in Montreal on Thursday August 25, 2022. Photo by John Mahoney /Montreal Gazette
Saidye Bronfman, who was married to Seagram Company founder Samuel Bronfman, was a noted philanthropist throughout her life. Her husband set up the Samuel and Saidye Bronfman Family Foundation in 1952, and the Saidye Bronfman Centre for the Arts (now called the Segal Centre) was named after her.
"When it comes time to name a park, you have to sit back and reflect a bit," said Plante. "Lots of potential names come to mind. There are lots of Montrealers who have contributed to the evolution of Montreal … and we need to bring more diversity.