Montreal's roadwork plans this fall embrace long-term La Fontaine tunnel restore
Breadcrumb Trail links
Local News
Work on the tunnel will be a major source of congestion, one expert said. "Commuters … could see their drive taking four times as long as it normally takes."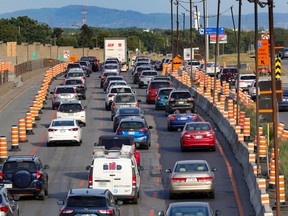 Traffic heads south to the Louis-Hippolyte-La Fontaine Tunnel linking Montreal with the South Shore. Photo by John Mahoney /Montreal Gazette
Article content
In a ranking of the greatest traffic headaches Montrealers and suburbanites can expect this autumn, work on the Louis-Hippolyte-La Fontaine Tunnel and its cascading side-effects on other routes and bridges is expected to be the city's No. 1 migraine, by far.
Advertisement 2
This advertisement has not been loaded yet, but your article continues below.
Article content
"When people ask me to tell them the top three roadwork projects that will cause disruptions, I tell them 'The tunnel, the tunnel, the tunnel,' " said Louis-André Bertrand, spokesman for Mobility Montreal. "The tunnel will be a main cause of congestion, and it will spill over to other areas. Commuters … could see their drive taking four times as long as it normally takes."
By clicking on the sign up button you consent to receive the above newsletter from Postmedia Network Inc. You may unsubscribe any time by clicking on the unsubscribe link at the bottom of our emails. Postmedia Network Inc | 365 Bloor Street East, Toronto, Ontario, M4W 3L4 | 416-383-2300
Thanks for signing up!
Article content
On Thursday, Mobility Montreal, a conglomeration of roadwork and transit agencies from across the region responsible for planning traffic flow around the city's ubiquitous infrastructure renewal projects, presented plans for the main roadwork projects slated for the Montreal region.
The roadblocks and detours caused by the work on the tunnel connecting Montreal to Longueuil and other municipalities on the South Shore will send more traffic to other spans, primarily the Jacques Cartier Bridge, which has been the scene of lengthy delays already this summer. Motorists have reported queuing for more than an hour on the Montreal side of the span, mired in gridlock on feeder lanes like Papineau Ave. and Sherbrooke St. leading to the bridge.
Advertisement 3
This advertisement has not been loaded yet, but your article continues below.
Article content
As of November, only one lane out of three will be open in the tunnel heading to the South Shore, and two lanes in the northbound tunnel heading to Montreal.
The good news is that there are only 36 major roadwork projects scheduled for the autumn, as compared to 50 that were scheduled for this summer, and less than the 44 projects that were under way last fall.
The bad news is that the lane closures in the La Fontaine Tunnel are forecast to be in place until 2025, causing at least two-and-a-half years of disruption.
To avoid the worst, traffic planners are advising motorists to research their commute carefully beforehand by looking online at mobilitymontreal.gouv.qc.ca to see the alternatives offered. Parking spaces are being increased at transit terminals on the South Shore, and express buses taking commuters to the Radisson stop on the métro's Green Line from those transit stops will be free. Buses, taxis and cars carrying three riders or more will be able to use a reserved lane to avoid traffic.
Advertisement 4
This advertisement has not been loaded yet, but your article continues below.
Article content
Planners said they expect congestion to be at its worst in the first weeks after lanes in the tunnel are closed, until commuters figure out alternative routes.
Some positive advances that are expected to help alleviate congestion include the completion of the long-awaited Pie-IX reserved bus lane, which is supposed to be running as of late November or December. As well, the South Shore segment of the REM light-rail system that will bring commuters over the Champlain Bridge into downtown Montreal is scheduled to be open as of Dec. 1.
OTHER MAJOR ROADWORK PROJECTS SCHEDULED:
Sources Blvd.-Highway 20 Interchange
Work is continuing on the interchange until 2024. As of September, the on-ramp leading from Highway 20 westbound to Sources Blvd. will be closed for the fall. Later this autumn, the on-ramp from Highway 20 eastbound will be shut.
Advertisement 5
This advertisement has not been loaded yet, but your article continues below.
Article content
Metropolitan Expressway
Asphalt work will be carried out on the expressway between the Côte-de-Liesse interchange and Provencher Blvd. throughout the fall, leading to the closure of the autoroute in one direction on some nights and weekends.
St Pierre Interchange
Maintenance work will force the closure of the on-ramps from Highway 138 leading to Highway 20 on evenings and some weekends, for the foreseeable future.
Honore Mercier Bridge
Traffic will be reduced to one lane in either direction on the weekends as maintenance work is carried out.
Ville-Marie and Viger tunnels
The Ville-Marie Expressway will be fully or partially closed for resurfacing work on some nights and weekends.
Good news: The exit for Mountain St. is to be reopened by the end of 2022
Advertisement 6
This advertisement has not been loaded yet, but your article continues below.
Article content
Remembrance Rd. and Cote-des-Neiges Rd.
Work will continue on the interchange that serves as the entry to Mount Royal Park until 2023. One lane of traffic will remain in each direction on Remembrance Rd. and Côte-des-Neiges Rd.
guy st
Guy St. will be completely closed between Notre-Dame and St-Jacques Sts until December, then between Notre-Dame and William St. from May until December 2023. St. Jacques St. will be reduced to two lanes or one lane during the work period.
Des Pins Ave.
The avenue will be closed completely between St-Laurent Blvd. and St-Denis St. through 2022. St. Denis and St-Laurent will be partially closed to traffic.
In phase 2 of the work, carried out to rebuild sewage and water pipes, des Pins Ave. will be closed completely between Parc Ave. and St Laurent Blvd. from 2022 to 2023.



Montreal, brace yourself for a summer of roadwork




La Fontaine Tunnel works ramps up and will continue till 2024
Share this article on your social network
Advertisement 1
This advertisement has not been loaded yet, but your article continues below.
Comments
Postmedia is committed to maintaining a lively but civil forum for discussion and encouraging all readers to share their views on our articles. Comments may take up to an hour for moderation before appearing on the site. We ask you to keep your comments relevant and respectful. We have enabled email notifications—you will now receive an email if you receive a reply to your comment, there is an update to a comment thread you follow or if a user you follow comments. Visit our Community Guidelines for more information and details on how to adjust your email settings.