Montreal police investigating wounding of Mob boss: Stories
Breadcrumb Trail Links
News
Canada
Serafino Oliverio, also known as Sergio Lopez, was an associate of former crime boss Vito Rizzuto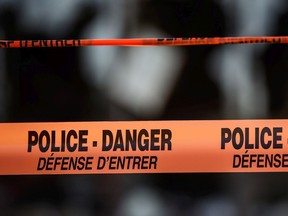 Photo by Dario Ayala /Montreal Gazette files
Article content
Montreal police are investigating the shooting of a 69-year-old man in Rivière-des-Prairies that occurred on Wednesday afternoon.
Advertisement 2
This advertisement has not loaded yet, but your article continues below.
Article content
The shooting took place about 4:30 p.m. on Gouin Blvd. at the corner of Paul-Dufault Ave. Police responded to 911 calls and investigated the scene, but found no victim.
There were roughly 20 shell casings found at the scene and a bullet hole in a car, said Montreal police Const. Jean-Pierre Brabant. About 45 minutes later, a 69-year-old man walked into the emergency room of a Montreal-area hospital with a bullet wound to his upper body.
By clicking on the sign up button you consent to receive the above newsletter from Postmedia Network Inc. You may unsubscribe any time by clicking on the unsubscribe link at the bottom of our emails. Postmedia Network Inc. | 365 Bloor Street East, Toronto, Ontario, M4W 3L4 | 416-383-2300
Thanks for signing up!
Article content
He was being treated for non-life-threatening injuries.
Witnesses said a man walked up to the victim's house and opened fire. However, no cars were seen leaving the scene.
Media reports identified the victim as Serafino Oliverio, also known as Sergio Lopez.
Brabant said the victim was hit by at least one bullet in his upper body. He would not confirm the reports that the victim is Oliverio.
Advertisement 3
This advertisement has not loaded yet, but your article continues below.
Article content
Oliverio was an associate of former crime boss Vito Rizzuto, and is considered by police to be the head of an organized-crime clan that owns several bars and restaurants.
According to the Quebec business registry, Oliverio, 69, is the owner of a company that handles real estate development and financing. In 2018, Oliverio and the numbered company pleaded guilty at the Montreal courthouse to having filed false federal tax returns. Oliverio and the company were ordered to pay a total of $27,500 in fines.
The following year, the Régie du Bâtiment du Québec had the numbered company's licence suspended for 60 days because Oliverio failed to report the guilty pleas to the licensing bureau and performed construction without a permit in 2018. According to a decision delivered in that case, the numbered company was not allowed to obtain public contracts because of guilty pleas in the tax case.
Advertisement 4
This advertisement has not loaded yet, but your article continues below.
Article content
On April 19, 2005, while police were investigating the heads of the Rizzuto organization in Project Colisée, investigators were able to record a meeting attended by Oliverio, Montreal Mafia leader Francesco (Chit) Del Balso and Tony Magi, the real estate developer who was later killed in January 2019.
The subject of the meeting involved how Magi had been abducted and assaulted by two men.
During the meeting, held at Del Balso's former hangout in Laval, Magi provided details about how he had been abducted and handcuffed. Magi said he managed to escape, but it appeared Del Balso was assigned, by Vito Rizzuto's son Nick, to find out who the kidnappers were. Nick Rizzuto Jr. joined the meeting later the same day.



Mafia-tied developer Tony Magi dead after shooting in N.D.G.




Shooting victim found dead in industrial sector of Rivière-des-Prairies




Gangs behind 'unprecedented' broad daylight shooting in R.D.P., police say
Share this article in your social network
Advertisement 1
This advertisement has not loaded yet, but your article continues below.
Comments
Postmedia is committed to maintaining a lively but civil forum for discussion and encourage all readers to share their views on our articles. Comments may take up to an hour for moderation before appearing on the site. We ask you to keep your comments relevant and respectful. We have enabled email notifications—you will now receive an email if you receive a reply to your comment, there is an update to a comment thread you follow or if a user you follow comments. Visit our Community Guidelines for more information and details on how to adjust your email settings.