Montreal Gazette launches 55th annual Christmas Fund marketing campaign
Breadcrumb Trail Links
Editorials
With the 55th annual Gazette Christmas Fund, you can help us once again bring a little bit of holiday cheer to thousands of Montrealers in need.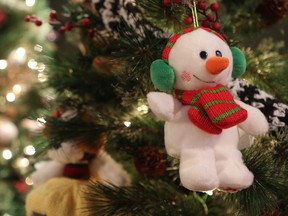 Photo by Pete Fisher /Northumberland Today files
Article content
These warm, sunny, late autumn days can make things seem brighter than they are.
Advertisement 2
This advertisement has not loaded yet, but your article continues below.
Article content
It's not hard to see the weather as a reflection of some pretty drastic climate change, but there's something more immediate going on than that generational, existential threat.
By clicking on the sign up button you consent to receive the above newsletter from Postmedia Network Inc. You may unsubscribe any time by clicking on the unsubscribe link at the bottom of our emails. Postmedia Network Inc. | 365 Bloor Street East, Toronto, Ontario, M4W 3L4 | 416-383-2300
Thanks for signing up!
Article content
Recession.
Governments around the world are trying to avert this global economic downturn, but it seems almost inevitable at this point, even if we all cancel our Disney+ subscriptions.
Meta/Facebook just announced they're laying off 11,000 people, and a Google employee I met over dinner this week told me they're in the middle of a hiring freeze.
Here at home, those ubiquitous "nous embauchons" signs belie a burgeoning fact of Montreal life. The sorts of jobs that get advertised by signs in windows no longer pay enough to offset the epochal rise in rents the city has been facing these past few years. As we've reported over the last year, truly affordable housing — the $900 a month or less that used to be so common here, was once, in fact, one of the proudest hallmarks of a city in which you didn't have to be well off to live well — are vanishingly rare.
Advertisement 3
This advertisement has not loaded yet, but your article continues below.
Article content
Being house poor used to be reserved for those who owned houses. No longer. As rents increase and incomes mostly do not, there's less and less money for anything else. Like school supplies, a varied diet, and Christmas.
Whether it's a religious, cultural, or just a statutory holiday for you, the further we get into December, the starker the division between haves and have nots becomes, and shortfalls become even more keenly felt, especially by children, as treats and baubles become shinier, more abundant, and harder to ignore.
This need, this want, can feel overwhelming, both for those experiencing it and those who want to do something to help. The economy will do what the economy will do, but there is something you can do, something we can do, something small, but something meaningful. You can help us once again make the annual Montreal Gazette Christmas Fund the beacon it's been for the last 55 years. Each year, we raise hundreds of thousands of dollars, to be distributed around the city in the form of $125 cheques to those our partners — like Sun Youth, the Old Brewery Mission, Chez Doris, the Depot Community Centre — identify as being most in need of them.
Advertisement 4
This advertisement has not loaded yet, but your article continues below.
Article content
The $125 can be a boon, whether it's used to top off expenses, or as an excuse for a little well-earned frivolity, but on top of that, the total amount we raise, which we'll trumpet from the rooftops as this year's campaign ends on Dec. 31, is a message sent to Montrealers everywhere that we're able to share a little of whatever luck we've had this year with those who've had less of it.
As people read Facebook more and newspapers less, our totals have been slowly decreasing over the past decade or so, slipping below the $1 million mark and into the $750,000 range. That's still remarkable, allowing us to cut 6,500 cheques to 6,500 households. More remarkable still, more than 80 per cent of that comes from individuals contributing whatever they're able, from $5 on up. Corporations and foundations continue to pitch in, especially Inflight Canada, the people who, among other things, are responsible for those little flight attendant call buttons on the sides of your airplane seats, who've topped our donor list every year with a donation of $15,000.
Advertisement 5
This advertisement has not loaded yet, but your article continues below.
Article content
I'd love to see that final tally start creeping up again this year, for all sorts of reasons, including the unfortunate fact that, like so many other companies out there, we're feeling the pre-recession pinch here at 2055 Peel St. too, and won't be able to cover all the expenses involved in running the fund this year. Our staff is still donating hundreds of hours to the cause, as they always do, but it's a smaller staff now, and so about three per cent of what we take in will have to go to making sure we can pull this whole thing off again, this year, and in years to come.
We raised $748,177 last year. Shall we try for $800,000 this year? And if we can do that, maybe a little more the year after, until we get back to that million-dollar plateau in time for our 250th anniversary in 2028. It'd be the most appropriate possible birthday present.
We'll be running stories of people who've gotten these cheques in the past, every Tuesday to Saturday from now till the end of the year (you'll find the first one here), alongside daily updates on the generosity of our readers, partners, and sponsors, as well as continual reminders that you can donate — once, or weekly if you like — at christmasfund.com.
Now let's get this season started.
If you have any questions about the fund or this year's campaign, please drop a line to [email protected].
Share this article in your social network
Advertisement 1
This advertisement has not loaded yet, but your article continues below.
Comments
Postmedia is committed to maintaining a lively but civil forum for discussion and encourage all readers to share their views on our articles. Comments may take up to an hour for moderation before appearing on the site. We ask you to keep your comments relevant and respectful. We have enabled email notifications—you will now receive an email if you receive a reply to your comment, there is an update to a comment thread you follow or if a user you follow comments. Visit our Community Guidelines for more information and details on how to adjust your email settings.