Mistrial declared in case involving the murders of Montreal Mafia leaders
Breadcrumb Trail Links
News
Local News
The reasons behind the decision are under a publication ban, but the judge told the jury: "You can't unscramble scrambled eggs."
Author of the article:
Paul Cherry  •  Montreal Gazette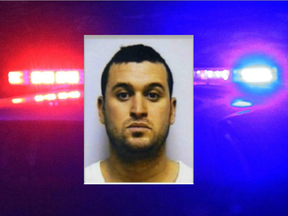 Jonathan Massari is accused of taking part in four killings linked to a conflict within the Montreal Mafia. Photo: Court files
Article content
A jury that had been hearing evidence since September in a trial involving the murders of two Montreal Mafia leaders was informed Thursday morning their work was all for naught, as the Quebec Superior Court judge presiding over the case has declared a mistrial. 
Advertisement 2
This advertisement has not loaded yet, but your article continues below.
Article content
Justice Michel Pennou declared the mistrial in the case against Jonathan Massari, 41, Wednesday afternoon, while the jury was not present. He placed a temporary publication ban on his decision so he could inform the jury in person. He said he didn't want the jury to learn of the development "through the media."
By clicking on the sign up button you consent to receive the above newsletter from Postmedia Network Inc. You may unsubscribe any time by clicking on the unsubscribe link at the bottom of our emails. Postmedia Network Inc. | 365 Bloor Street East, Toronto, Ontario, M4W 3L4 | 416-383-2300
Thanks for signing up!
Article content
The reasons behind Pennou's decision remain under a publication ban, but while explaining the situation he told the jury: "You can't unscramble scrambled eggs."
Last week, the trial came to an abrupt halt after defence lawyer Philippe Larochelle filed the motion for a mistrial.
"I heard (arguments on) that request on Monday," Pennou told the jury. "I came to the conclusion I should accept it and I ordered the mistrial."
Advertisement 3
This advertisement has not loaded yet, but your article continues below.
Article content
He then dissolved the jury.
Massari was seated inside a prisoner's dock as the decision was delivered. Dressed in a baggy grey sweater and with his glasses and thick beard, taking notes, he looked more like a university student than a man accused of four gangland murders.
The trial was held at the Gouin courthouse near the Montreal detention centre on Gouin Blvd. Despite the mistrial, Massari remains charged with four counts of first-degree murder and three of conspiracy to commit murder. He is alleged to have played varying roles in the deaths of Mafia leaders Lorenzo Giordano and Rocco Sollecito — both killed in Laval on different dates during 2016 — as well as the deaths of Vincenzo Falduto, 30, and his 23-year-old brother, Giuseppe, who were killed inside a garage on a farm in St-Jude, a rural town near St-Hyacinthe, in 2016.
Advertisement 4
This advertisement has not loaded yet, but your article continues below.
Article content
The Crown's theory is that the murders were carried out during a conflict within the Montreal Mafia. The jury heard evidence that Salvatore Scoppa, a leader of a Calabrian clan in 2016, sought to kill many people tied to a Sicilian clan. The jury heard evidence that Scoppa maintained a list of people he wanted to have killed and that Massari delivered those orders to people willing to work for the Calabrians.
Scoppa was killed at a hotel in Laval in 2019.
Larochelle made the request while the jury was hearing testimony from the key witness in the trial, a hit man who admitted to shooting Sollecito and the Falduto brothers. He alleged that Massari helped plan the murders and acted as a getaway driver when Giordano was killed on March 1, 2016, and when Sollecito was fatally shot on May 27, 2016. He alleged that Massari was supposed to kill one of the Falduto brothers to "make his bones" with Scoppa and be promoted to "capo," or lieutenant, in the Calabrian clan. The informant said Massari panicked as the carefully planned ambush was about to start and ran out of the garage instead of shooting anyone. But, the informant said, Massari helped plan the ambush and got rid of evidence afterward.
Advertisement 5
This advertisement has not loaded yet, but your article continues below.
Article content
The informant also alleged that Massari told him he acted as the getaway driver after Dominico Scarfo shot Giordano outside a gym in Laval where the mobster trained on a regular basis.
The hit man, whose name cannot be published, became an informant in 2019 and began working with the Sûreté du Québec. While he testified last week, he alleged that Massari was involved in several other crimes that are not related to the charges Massari faces. That included an allegation that Massari confessed to him that he hired the hit man who killed Scoppa.
Pennou told the lawyers involved in the case that he would like to see a date for a new trial be set as soon as possible. He estimated it will take more than six weeks to complete.



Mafia figure's prison protector is now testifying against him




'War of clans': Trial begins for man charged in Montreal Mafia killings

Tap here for more about the Montreal Mafia
Share this article in your social network
Advertisement 1
This advertisement has not loaded yet, but your article continues below.
Comments
Postmedia is committed to maintaining a lively but civil forum for discussion and encourage all readers to share their views on our articles. Comments may take up to an hour for moderation before appearing on the site. We ask you to keep your comments relevant and respectful. We have enabled email notifications—you will now receive an email if you receive a reply to your comment, there is an update to a comment thread you follow or if a user you follow comments. Visit our Community Guidelines for more information and details on how to adjust your email settings.