From the archives: If there is a flood, it should be spring in Montreal
Breadcrumb Trail Links
Quebec
Mtl 375th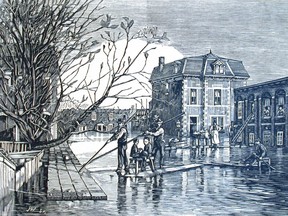 Montreal flood, wood engraving, 1850-1885. Photo by John Henry Walker /McCord Museum
Article content
This story was first published on April 17, 2006, in the Montreal Gazette.
Advertisement 2
This advertisement has not loaded yet, but your article continues below.
Article content
The water rose like a wall, suddenly, instantly. It rushed towards the spot where he was standing; he turned and ran with all his strength to escape it; but it came too swiftly for him.
Gazette, Tues., April 16, 1861
He was a freelance reporter working for The Gazette. Ice choking the St. Lawrence made it plain that the dammed-up water would soon be flooding over the river's banks and into the city. It was a Sunday evening, and our man wanted to be there when it happened.
And so he was, where rue de la Commune meets Place Royale. But so sudden was the rush that he found himself frantically wading for 50 yards through water that at times lapped his knees before he reached a dry stretch of pavement. Within hours, a vast lake stretched from Bonsecours Market west along St. Paul St. to Victoria Square and on to the foot of Mountain St. Hundreds of acres of Griffintown and the manufacturing district near the entrance to the Lachine Canal were covered by up to six feet of water. More water lay along the low-lying reach of Craig St., today's St. Antoine.
Advertisement 3
This advertisement has not loaded yet, but your article continues below.
Article content
Floods had been a fact of Montreal life ever since fast-rising waters caught de Maisonneuve's colonists as their first Christmas approached in 1642. But the speed with which the floods struck never ceased to surprise.
With the flood of 1861, worshippers at St. Stephen's Anglican Church, then on Dalhousie St. in Griffintown, and at the nearby Wesleyan church were among the first to be trapped. Most were frightened and chose to stay put. Only a handful of men in the congregations felt strong enough to dare the waters, striking out for home with their children on their shoulders.
Rev. Jacob Ellegood at St. Stephen's decided to try his luck, too. He pushed through the frigid water, which at times reached his neck. Occasionally, chunks of ice struck him. When he finally got to dry land, he began running for the home of Montreal's mayor, Charles-Seraphin Rodier. It was late by the time he arrived, and Rodier had to be roused from his bed. Ellegood told him of the growing crisis, and asked that boats be sent to rescue his marooned parishioners. Then he began running again, this time for his own home where he sank into a hot bath.
Advertisement 4
This advertisement has not loaded yet, but your article continues below.
Article content
The calamity struck more than the evening worshippers at the Anglican and Wesleyan churches, of course. "Thousands," we reported, "found themselves on Monday morning shut up in their bedrooms upstairs, without fire, without food, without water to drink, and without any means of getting out of their houses. All the food, fuel and stores, which many, indeed, most of the poor creatures possessed, were in the first stories when the flood came."
A now-thawed Ellegood was among the men scrambling on Monday to find boats so that the stranded could be rescued, or at least to take food to those who wouldn't leave their homes. Where boats could not be found, people made do with rafts, sections of dislodged wood sidewalk, even the occasional table. The misery deepened as the weather turned unusually cold that evening.
Advertisement 5
This advertisement has not loaded yet, but your article continues below.
Article content
Animals suffered as well. Some were rescued by their owners, but time and again horses, cattle and pigs could be seen thrashing about on their own, not knowing which way to go. A cow managed to reach a second-storey gallery overlooking Chaboillez Square, where it could be seen calmly feeding. Other creatures were less fortunate, and drowned.
In the middle of the afternoon, a fire broke out in the potash-inspection station near the foot of McGill St. Water soaking into the barrels of unslaked lime caused them to combust spontaneously. An eyewitness saw barrels explode as if they held gunpowder.
There was water everywhere but none of it could be pumped, and the firemen had to grope beneath its surface to couple their hoses to the hydrants. "For hours together they worked up to the arm-pits in cold ice-water," The Gazette said. "Some of them became cramped and had to be floated away. It was these exertions alone which saved a great part of McGill Street from falling a prey to the flames."
Advertisement 6
This advertisement has not loaded yet, but your article continues below.
Article content
The misery was compounded Tuesday night when a strong east wind brought in about a foot of snow. By then the waters had begun to recede, but not the danger. That evening, a man named William Carmody was in a canoe in the Lachine Canal near the Redpath sugar refinery. There were four others with him, and they were trying to lead their cows to safety. The canoe capsized and Carmody, his 19-year-old daughter and a young man named Ryan were drowned.
"The bodies were recovered by means of drags … and conveyed to their homes by the Water Police," we reported. "The scene at Carmody's on Farm street, a little south of the Wellington Bridge, was very distressing when he and his daughter were brought in on boats. A number of the neighbors and his poor wife and daughters were present and gave vent to their feelings in an affecting manner."
One elderly Montrealer said it was the worst inundation the city had seen since 1812. Yet the floods would continue for decades more. Only then, after two especially bad ones in 1886 and 1887, were stone revetment walls along the harbourfront and other control measures able to end the centuries-old scourge.
Share this article in your social network
Comments
Postmedia is committed to maintaining a lively but civil forum for discussion and encourage all readers to share their views on our articles. Comments may take up to an hour for moderation before appearing on the site. We ask you to keep your comments relevant and respectful. We have enabled email notifications—you will now receive an email if you receive a reply to your comment, there is an update to a comment thread you follow or if a user you follow comments. Visit our Community Guidelines for more information and details on how to adjust your email settings.