Emotional prayer room ceremony marks sixth anniversary of Quebec mosque taking pictures
Breadcrumb Trail links
Local News
"We all have a duty to remember to ensure that no other Quebecer or Canadian falls to the bullets of hatred."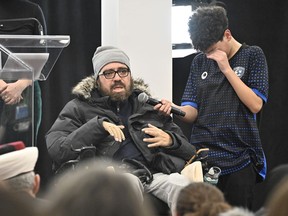 Ayman Derbali, injured victim of the 2017 mosque shooting, speaks of the ordeal as his son Ayoub cries while holding the microphone during a ceremony, Sunday, Jan. 29, 2023, at the mosque in Quebec City. An emotional ceremony took place Sunday marking the sixth anniversary of the Quebec City mosque shooting, held for the first time in the same room where many of the victims were killed. Photo by Jacques Boissinot /The Canadian Press
Article content
QUEBEC — An emotional commemoration marking the sixth anniversary of the Quebec City mosque shooting was held Sunday for the first time in the same room where many of the victims were killed.
Advertisement 2
This advertisement has not been loaded yet, but your article continues below.
Article content
Mamadou Tanou Barry, Ibrahima Barry, Khaled Belkacemi, Abdelkrim Hassane, Azzeddine Soufiane and Aboubaker Thabti were gunned down not long after evening prayers at the suburban mosque on Jan. 29, 2017. Nineteen others were injured in the hate-fuelled attack and 17 children were left without their fathers.
By clicking on the sign up button you consent to receive the above newsletter from Postmedia Network Inc. You may unsubscribe any time by clicking on the unsubscribe link at the bottom of our emails or any newsletter. Postmedia Network Inc | 365 Bloor Street East, Toronto, Ontario, M4W 3L4 | 416-383-2300
Thanks for signing up!
Article content
Mosque co-founder Boufeldja Benabdallah was among those who spoke Sunday evening and said his thoughts were with the families of the victims, the children left without their fathers, the widows of the six fallen men and those who survived.
"You told us: 'You must not forget our husbands,' " Benabdallah said addressing the widows. "We have not forgotten, each one has their name."
On the second National Day of Remembrance of the Quebec City Mosque Attack and Action against Islamophobia, community members and dignitaries sat on the ground shoulder to shoulder in the prayer room where the attack occurred six years earlier, also on a Sunday evening.
Advertisement 3
This advertisement has not been loaded yet, but your article continues below.
Article content
Said Akjour, who survived the attack, said he could still pinpoint where his brothers fell that night.
"From this huge loss there are positives, even just by being here tonight to say no to violence, it's thanks to my fallen brothers," Akjour said, his voice trembling.
His message was to fellow Muslims to reach out, to share and to allow themselves to be known.
"This attack happened because there was mistrust, there was ignorance about what a mosque is," Akjour said. "The person who came in here, who did all this damage and took the lives of humans didn't see them as humans, as citizens, as fathers."
Prime Minister Justin Trudeau told attendees it is important to send a message violence and hatred have no place in this country. He also spoke of the Afzaal family killed in London, Ont., and Mohamed-Aslim Zafis, a volunteer who was killed outside an Etobicoke mosque, victims targeted because of their faith and culture.
Advertisement 4
This advertisement has not been loaded yet, but your article continues below.
Article content
"Canada is a place of openness and respect," Trudeau said. "And we need to recommend ourselves to these values ​​every day."
The gunman behind the Quebec attack pleaded guilty and was originally sentenced to life in prison with no parole eligibility for 40 years, but saw that window reduced to 25 years after a 2022 Supreme Court ruling.
Aymen Derbali, who was shot seven times as he rushed the gunman and was left paralyzed as a result, choked back tears as he said he was at peace with the court's decision. But he told attendees he wanted everyone to see the mosque shooting as a terrorist attack.
"We see around the world when it's an attack perpetrated by a Muslim, it's a terrorist attack but the same attack by a non-Muslim is not," Derbali said. "It's a flagrant injustice and if it's a terrorist attack, it's a terrorist attack, it shouldn't be a label reserved for Muslims."
Advertisement 5
This advertisement has not been loaded yet, but your article continues below.
Article content
Mohamed Labidi, president of the mosque, said six years have passed, but the effect of that night is forever engraved in their hearts and minds.
"We all have a duty to remember to ensure that no other Quebecer or Canadian falls to the bullets of hatred," Labidi said.
Labidi lauded positive actions by the federal government, including tougher gun laws, a day to commemorate the attack and the naming of Amira Elghawaby, a journalist and human rights advocate from Ottawa named as Canada's first special representative to combat Islamophobia.
But he said there remains more to do and called on the Quebec government to take concrete actions to combat Islamophobia.
On Thursday, mosque officials strongly denounced Law 21, Quebec's secularism law on the books since 2019 that prohibits the wearing of religious symbols such as hijabs, kippahs and turbans by teachers, judges, police and other government employees deemed to be in positions of authority.
Quebec Premier François Legault defended the law on Friday as "reasonable" and told reporters it was "wrong" to claim it had made Islamophobia easier.
Legault did not attend Sunday's event because of what a spokesperson described as a family obligation. He paid tribute to the victims in a tweet earlier Sunday and the Quebec government was represented by deputy premier Geneviève Guilbault.
Share this article on your social network
Advertisement 1
This advertisement has not been loaded yet, but your article continues below.
Comments
Postmedia is committed to maintaining a lively but civil forum for discussion and encouraging all readers to share their views on our articles. Comments may take up to an hour for moderation before appearing on the site. We ask you to keep your comments relevant and respectful. We have enabled email notifications—you will now receive an email if you receive a reply to your comment, there is an update to a comment thread you follow or if a user you follow comments. Visit our Community Guidelines for more information and details on how to adjust your email settings.